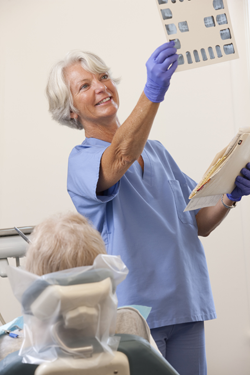 Access to DHA
DHA specializes in providing access to dental health care providers for insurance companies, employer groups, third party administrators, associations, and other defined groups. Whether you are looking for a way to provide a new benefit, enhance your current dental plan or redesign your dental benefits program, DHA can assist you in developing a solution that may lower your costs.
Our commitment is to deliver significant savings on claims costs. Participating dentists discount their usual fees - even for services that may not be covered by your dental plan.

DHA's network is constantly expanding because we are committed to providing members with the dentists of their choice. The recruiting process is ongoing and is facilitated by a dedicated staff of Dental Network Managers whose goal is to continue to build a network that meets the needs of our clients.
DHA encourages members to nominate their dentists for participation in DHA. Then, the DHA recruiters make every effort to add those nominated dentists to our network, even if only one of our members has nominated the dentist.

We offer quality dentists. All participating dentists meet our rigorous credentialing requirements that are based on National Committee on Quality Assurance (NCQA) guidelines.
Members can use this website to find participating dentists or they can call Client Services for assistance.
DHA's network is easily incorporated into your current benefit plan - there is no need to change your current dental plan design!
Affiliated Network Information

DHA provides access to participating dentists in specific parts of the country through agreements with a limited number of quality, regional networks. Please call us at 800-522-1313 for specific details regarding our network affiliations.